Payment
We accept the following payment methods:
1. ECPay: ECPay is a famous Taiwan Internet Payment Service Provider, support credit cards such as VISA/MasterCard/JCB/China UnionPay. When you choose ECPay as payment method, and click "PLACE ORDER NOW", you will be redirect to ECPay payment page, and following the instruction to finish the order.
Note 1:Users in mainland China can choose "China UnionPay" in the ECPay payment page.

2. PayPal : PayPal is an international payment company, supporting many different type of credit cards or debit cards, such as Visa, MasterCard or American Express. When you choose PayPal as payment method, and click "PLACE ORDER NOW", you will be redirect to PayPal payment page. You can choose "Pay with Debit or Credit Card". You can also register as a PayPal member and use its services for payment.
Note 1: Users with billing address in Taiwan cannot use PayPal, due to local policy restriction.
Note 2: Users in mainland China must register as PayPal members before they can use credit card payment through PayPal.
PayPal payment page description: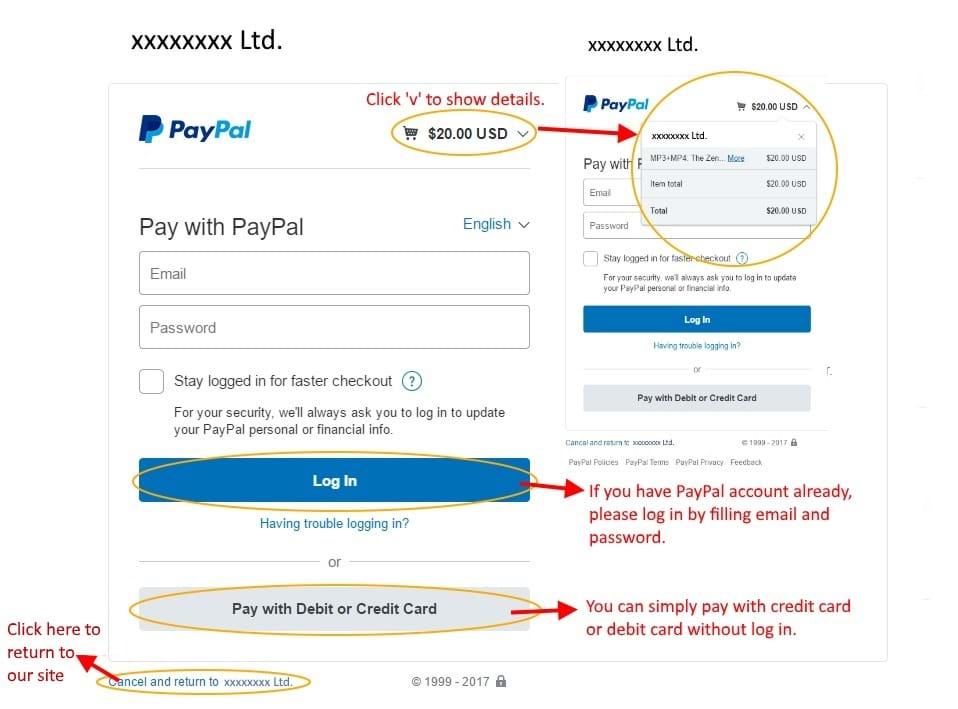 Friendly tips:
1. The credit card may generate foreign transaction fees for puchases in foreign country, and you might check with your credit card issuing bank to confirm the relevant billing information.

2. The product price on this website is denominated in US dollars, so the price of the commodity other than the US dollars will fluctuate with the international exchange rate. If you pay in other currencies other than the US dollars for the order, the payment will be converted to US dollars according to your credit card or payment company's exchange rates. It is recommended that you check with your payment company for the exchange rate.

3. A 3D certified credit card is recommended, to improve the security of online payment using credit cart, which will protect your interests.
What is a credit card 3D certification?
"3D Certification" Services use the global universal payment mechanism "3-D Secure" technology as a global verification technology. The use of advanced encryption technology to prevent unauthorized access to the cardholder's confidential data, and then avoid the relevant personal data intercepted by others, to further protect the integrity and confidentiality of data in the transmission process. The service is being launched by Visa, MasterCard and JCB International to provide a safer network transaction environment for cardholders. You need to enter a 3D authentication password when you shop online, to complete the transaction, which give you more security and protection.
"3D Certification (credit card password), is a set of credit card password which the cardholder applied to the card issuing bank. When using credit card to do transactions on the network, you need to enter this credit card's password. The card issuing bank will do on-line confirmation of cards with the correct password before issuing deduction. This can greatly reduce the card lost on the online theft of the risk, which is a more secure online credit card mechanism.
This service is free of charge and does not require any software to be installed. Just ask the issuer to set up a set of password (banks can not share 3D passwords, you need to apply independently for each card). If you are unsure whether your credit card has open 3D certification services, or forget your 3D authentication password, please contact your credit card issuing bank.
If your card issuer has provided a dynamic password service, as long as you have a mobile phone number in the card issuing agency, you do not have to register the action, the card issuer will automatically send a verification code through SMS, when you perform online transaction.